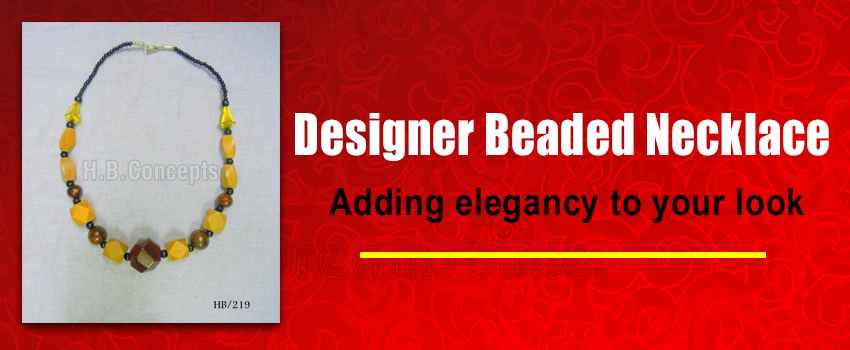 A designer beaded necklace is a type of jewellery that is made from a combination of beads and other materials, such as precious metals, gemstones, or crystals. These necklaces are often handmade and designed by professional jewellery designers, who use their creativity and expertise to create unique and beautiful pieces.
Beaded necklaces can be made from a variety of different types of beads, including glass beads, seed beads, wooden beads, metal beads, and more. They can be strung together in a variety of patterns manufactured by the designer beaded necklace manufacturer, such as alternating colors or shapes, to create a unique and visually appealing design.
Wearing a designer beaded necklace can have several significant benefits, including:
• Style: A designer beaded necklace is a stylish accessory that can add a pop of color and texture to any outfit. They come in a wide range of styles and designs, making them versatile enough to wear with both casual and formal attire.
• Individuality: A designer beaded necklace is often a unique and one-of-a-kind piece of jewellery, which allows the wearer to express their individuality and personal style.
• Versatility: Beaded necklaces can be worn alone as a statement piece or layered with other necklaces for a more eclectic look. This versatility makes them a practical accessory that can be worn with a variety of outfits.
• Self-expression: The design and style of a beaded necklace can reflect the personality, tastes, and interests of the wearer, making it a way to express oneself through fashion.
• Cultural significance: Beaded necklaces are often a part of traditional dress and cultural identity in many societies around the world.
Before buying a designer beaded necklace, it is important to consider several factors to ensure that you select a piece that meets your needs and preferences. Some things to consider include:
• Quality: Consider the quality of the materials used in the necklace, as well as the craftsmanship. Look for necklaces made with high-quality beads, metals, and other materials that are durable and long-lasting.
• Style and design: Beaded necklaces come in a wide range of styles and designs, so consider your personal preferences and the occasion for which you will be wearing the necklace. Look for a design that complements your style and fits the occasion.
• Size and length: Consider the size and length of the necklace to ensure that it fits comfortably and flatters your body shape. Some necklaces are adjustable, while others are a fixed length, so make sure to measure your neck and compare it to the length of the necklace before making a purchase.
• Color and pattern: Beaded necklaces come in a variety of colors and patterns, so consider the colors and patterns that will complement your skin tone and outfit. Think about whether you want a necklace with bold or subtle colors, and whether you want a pattern that is simple or intricate.
• Price: Beaded necklaces can vary in price depending on the quality of materials and the design. Consider your budget and look for a necklace that fits within your price range.
• Brand and reputation: Consider the reputation of the brand or designer that you are purchasing from. Look for reviews and testimonials from previous customers to ensure that you are buying from a reputable and reliable source.